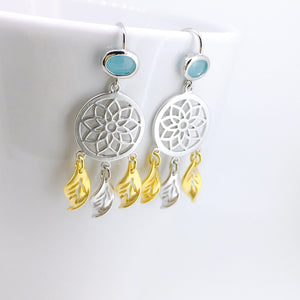 Dream Catcher Earrings
*** Sign in to purchase ***
- Don't dream your lives, Live Your Dreams and Be Brave -
Our dream catcher earrings are made specially to capture your dreams.
Life is after all full of surprises isn't it?
Receive a "surprised" stone on the ear wires.
Materials:
Stone ear wires include; Rose Quartz, Lapis Lazuli, Labradorite, Amazonite and much more....
On 925 sterling silver ear wires.
Dangle approx. 2.2cm.