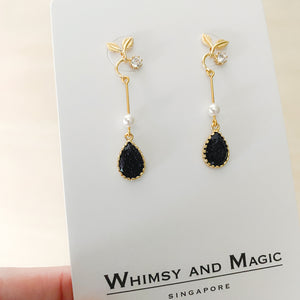 Emmalyn | Sandstones
*** Sign in to purchase ***
A petite sweet and beautiful pair that catches one's attention from the shimmering sparkles of the blue sandstones.
Sandstone | is an Earth energy stone. It is good for creativity and relationships. It helps easily distracted people and clears thoughts. Sandstone is called the stone of creativity as it blends multiple elements to include air, wind, fire, water, and earth to form.
Materials:
18K gold plated with 925 silver ear post (Hypoallergenic)
Semi-Precious Stone: Blue Sandstones and Swarovski pearls
Dangle approx. 3.5 cm.