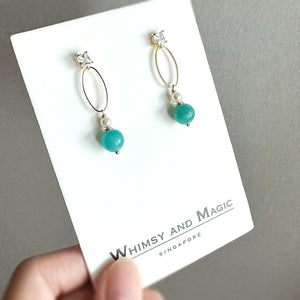 Leanna | Amazonite
*** Sign in to purchase ***
One can never goes wrong with this beautiful greenish blue crystal ...
Amazonite is not only a stone of prosperity. It also has a calming energy, and soothe anxiety and brings clarity to one's mind.
It is also a perfect color to pair up any suits / top / dress especially if you are working in the corporate world.
It not only added a dash of color to any outfits but attracts new customers/ orders to a business and assist one in being in the right place at the right time for new opportunities....  
Let Leanna accompany you and bring you all the good luck as the name suggested.
Materials:
On 925 silver ear post. (Hypoallergenic)
Natural Stone: Amazonite & Fresh Water pearls
Dangle approx. 3.5cm