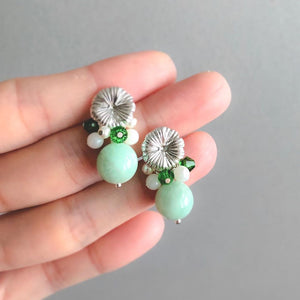 Not your Grandma's Jade II
*** Sign in to purchase ***
Not your Grandma's Jade II | If you rummage through your Grandma's jewelry box, you will never fail to find her jade accessories. 
These Jadeite were handpicked and paired together with individually hand wired moonstones and Swarovski crystals clusters.
The result.... We have given this pair of Type A Burma Jade a contemporary with modern twist look... another version we hope to be able to please you.
Have fun with this pair of "Not your Grandma's jade!"  
Materials:
925 sterling silver earposts
Semi-Precious Stone: Type A Burma Jade, Moonstones
Dangle approx. 2cm.